The WikiEducator prototype was established in February 2006. Today, WikiEducator has a wide international footprint and an established track record for collaborative authoring of OER.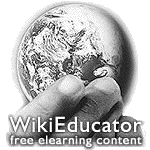 WikiEducator is an open wiki community working at the heart of the educational endeavour to share knowledge freely. Powered by Mediawiki, the same open source software underpinning Wikipedia, WikiEducator has over 80,000 registered account holders.  
WikiEducator's formative years were nurtured by the Commonwealth of Learning (COL), an intergovernmental organisation created by the Commonwealth Heads of Government to encourage the development and sharing of open learning and distance education knowledge, resources and technologies. Since July 2009, the WikiEducator community has been hosted by the OER Foundation.
Collaborative authoring platform for OERu courses
WikiEducator is used as the primary authoring platform for OERu courses. The OERF has developed an open source script that publishes a collection of wiki pages to the OERu course website, which is powered by WordPress for the hosting of online courses.
Wiki technology provides:
A single source of data to enable the reuse of online course resources across multiple delivery platforms, including seamless integration with local institutional Learning Management Systems (LMSs);

   

A scalable environment for collaborative authoring with detailed version control;

The opportunity for OERu partners to build knowledge and skills using open source development approaches.